Anguilla - Shangri-la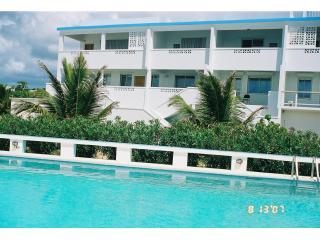 Anguilla - Shangri-la
Shangri La, Anguilla is located at a gorgeous residential
ttp%3A%2F%2Fwww.tripadvisor.com%2FSmartDeals-g147238-a_cja.1077
5740-a_cjp.4313222-m13092-Anguilla-Hotel-
Deals.html" target="_blank" rel="nofollow">beachfront resort in Sandy Hill Beach Club.
Enjoy a fully equipped kitchen with granite counter tops, a dining table that seats up to 6 of your holiday guests, Wi-Fi internet, cable TV, stereo system and DVD player. Shangri-la has a secluded deck that commands views of the ocean where guests can go snorkeling and scuba diving.
The villa is furnished with a king size bed, air conditioning and large private master bathroom.
To add to the ambiance, native artists' paintings from in and around Anguilla island are hung around the villa for an authentic Anguillan surrounding.
Return to Scuba Diving Directory .