Belize Attractions

(www.belize-attractions.com)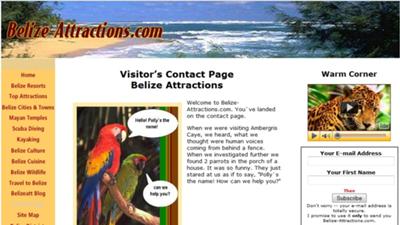 Belize Attractions
Belize Attractions website has been created for those with a taste for mystery. For those looking for a vacation with a difference. Here you can take a virtual trip to fire your desire.


On our website you can explore some top attractions such as:-
1)
Hidden Valley Falls
2)
The Five Sisters Falls
- even find a restaurant at the top
3)
Community Baboon Sanctuary
- learn about their habitats
4)
Ambergris Caye
- most popular for snorkeling and scuba diving.
Explore the Mayan Temples, scuba diving, kayaking, Belize culture, cuisine and wildlife.
For more about Belize, visit
Belize Attractions.com