Loading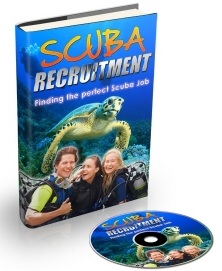 Most scuba diving jobs guides or books are a waste of time and money. Mainly because if you have read one, you have read them all. So as a rule, I don't usually buy books unless they are highly recommended by someone else.
But after reading How to Find The Perfect Dive Job I couldn't wait to write this review. It is a great book on finding a dive job that I have read and if you follow it, you will be on your ideal job in no time.
Note: Gabriel's book is an ebook (electronic book) so you will receive it by email as soon as you order.
When I first browsed the sales page for the book, I almost didn't buy it however, the table of contents seemed to point out some crucial information that isn't always highlighted when embarking on such an important decision in someone's life.
Still a bit skeptical, I purchased it anyway. However, I'm happy to tell you I was pleasantly surprised with its contents.
How to Find The Perfect Dive Job is an easy read filled with solid information on how to get your CV noticed and getting your scuba diving job. Not only does author Gabriel Machuret recommend the sure-fire way to get noticed among thousands of dive job applicants but he discusses necessary skills that can set you apart.
Gabriel worked for 5 years as a full time scuba instructor and has reviewed over 500 CVs from dive professionals. I also liked the fact that he gives customers his email address. I got a response within minutes when I contacted him for more information. He seems to genuinely want to help people and not just concerned about selling his book.
My Review
First of all, Gabriel starts out with standard CV guidelines that we sometimes ignore, but he highlights that the time of dive center owners is very valuable. So heed his advice or kiss your chance at getting a job goodbye.
He does very well at sticking to the point and being very practical. While he gives no nonsense type of advice there are some typos in the book which do not seem to detract too much from the excellent tips.
My favorite part of the book was where he talks about the specialties that are more necessary. Since some scuba instructors can waste time and money on specialities that are not required.
I learned alot from Gabriel's book...some information was even unexpected. He keeps it real and consistent. He stresses on the human factor that gets you in the minds of your potential employer.
Ever thought of calling your soon-to-be employer regardless even if they are overseas? Well, Gabriel gives examples of the type questions to ask so that dive center owners know you are serious about the job you seek.
The reason I am recommending this book to my visitors is because it answers a lot of the questions about the professional approach to getting a scuba diving job.
Throughout the book, Gabriel uses his experiences as examples and I found myself chuckling...
From how to improve your CV to the job research process from start to finish... it's all in How to Find The Perfect Dive Job. If you buy one dive book this year, make it this one. It was definitely money well spent for me.
Click to learn how to find your perfect dive job


Return from Your Perfect Diving Jobs to Caribbean Scuba Diving Home Page