Ocean life wallpaper helps you to explore what lies beneath......no not SpongeBob and his square pants. But the sea creatures that float along the ocean floor...roll with the waves...and gently caress each changing current. Ever wondered about them?...
We may not know all that we should know about ocean life but thankfully we can still see their beauty through the capable lenses of others ;-)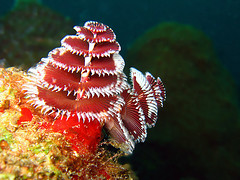 Christmas tree worm seen while scuba diving in St. Croix one of the US Virgin islands in the Caribbean, by Kevin King.
---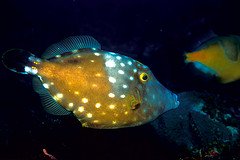 White spotted Filefish on Tortugas Reef off the beautiful Mexican town of Playa del Carmen.
These guys change their colours and spots quite rapidly. See the other filefish (distant right) not showing its spots. By LASZLO ILYES
---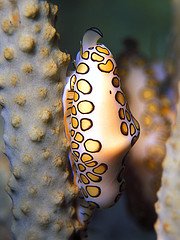 Flamingo tongues are pretty sea life. Here's a nice profile taken of one using a 105mm macro lens. This was taken in Curacao, Netherland Antilles. By LASZLO ILYES
Back to Caribbean Scuba Diving Vacations Home Page