Scuba diving in Curacao is fun!
by Doug
(Toronto, Canada)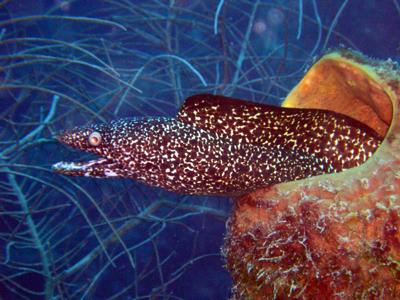 Curacao diving - Moray Eel in a barrel sponge
I have done scuba diving in Curacao many times. When you visit this beautiful island the water is as clear as you will see in the Caribbean. You can hop on a boat and hit spots almost all the wonderful scuba dive sites in Curacao along the west coast of the island. There is lots to see here - a great variety. The water temperature is usually around 82 degrees.


There are lots of scuba operators on the island. Eels are all over the place - all different types too. There are
lobsters, crabs, eels, barracuda, squid,
great corals and even the odd large fish like tarpon. It really doesn't get much better than Curacao diving!
Join in and write your own page! It's easy to do. How? Simply click here to return to Diving in Curacao.