Shoal Bay, Anguilla - SandCastle Pointe Villa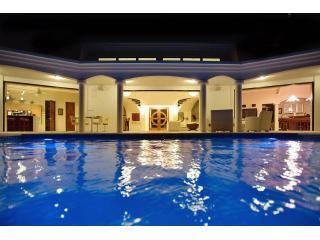 Shoal Bay, Anguilla - SandCastle Pointe
SandCastle Pointe Villa, Anguilla is an elegant 4 bedroom vacation rental located at Shoal Bay East,
ttp%3A%2F%2Fwww.tripadvisor.com%2FSmartDeals-g147238-a_cja.1077
5740-a_cjp.4313222-m13092-Anguilla-Hotel-
Deals.html" target="_blank" rel="nofollow">Anguilla, British West Indies. It is perched on a 1 acre impressive beachfront property just a stone's throw away from one of Anguilla's most famous beaches Shoal Bay.
Each suite has king sized beds, air conditioned along with ceiling fans, private indoor and outdoor bathrooms to add to your luxurious stay at SandCastle.
Other amenities include
:- BBQ Grill, Beach Towels, cable, Curved Infinity-edged Pool, Daily Housekeeping, washer & dryer fully outfitted kitchen and high speed wireless internet.
SandCastle Pointe guests can also look forward to a complimentary 4-seater compact car rental available during their entire stay (Insurance and Anguilla driver's license are not included).
Return to Scuba Diving Directory .