St John, US Virgin Islands (USVI) - Beaches

(St. John's, USVI)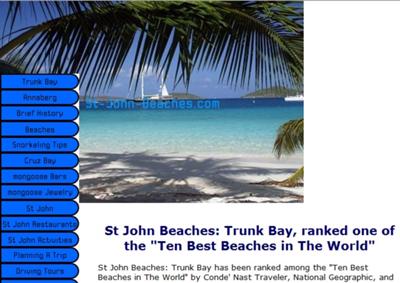 St-John-Beaches.com
St John Beaches.com is a website about all the beaches, bays, cays, nature trails, campsites, restaurants, bars, historical sites, attractions, snorkeling, charters, music, nightlife , resorts and information about surrounding islands. All of these ALSO include extensive reviews by travelers to St. John.


St John Island is part of the
US Virgin Islands
with a an amazing array of water sports.
Diving and snorkeling
is a great experience along the surrounding reefs. The waters are clean and clear blue, with underwater caves, shipwrecks and sea horse colonies.
Visit
St John Beaches.com
for more fun and adventures.