They make you want to jump right in!
Ever experienced swimming with dolphins in the great deep blue?These underwater dolphin pictures will give you a glimpse into the thrill I once experienced returning from a dive.
We had just done 2 wonderful dives at Speyside, Tobago dive site. I was looking forward to a warm dinner and for a moment I leaned back in my seat enjoying the sea spray as it lightly caressed my face as the boat whizzed us back to our destination.
Then I heard a faint shout and the boat began to slow down. "Dolphins!" I sprang right up off my seat! Dinner was forgotten and I was grabbing my snorkel gear ready to jump in...
The dolphins swam just about 5 metres off from the boat. My dive buddy and I were in and swam over to them. It was a pod of five dolphins...
They swam playfully...with that trademark constant grin. Maybe they were really laughing at me... My adrenaline was through the roof and I could not breathe fast enough! I had never swam with dolphins in the open seas like that before!
They stayed long enough for us to say hello and then they were off...
I will never forget that experience, I even think I was left with a grin as wide as theirs when we got back to Man-O-War Bay Cottage.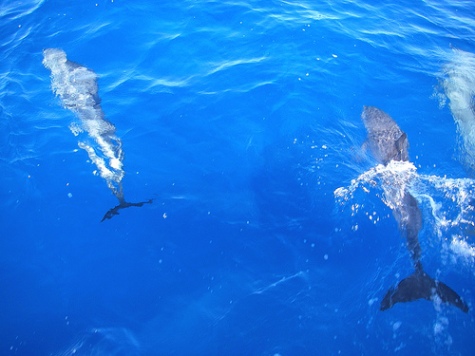 Dolphins just at the surface, Martinique, French West Indies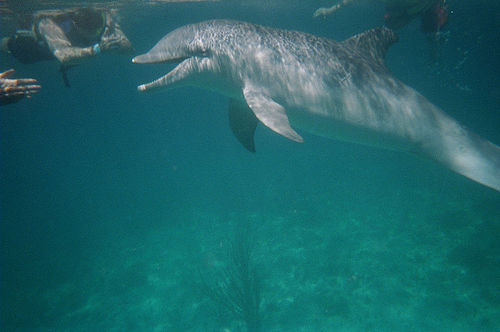 Snorkeling with dolphins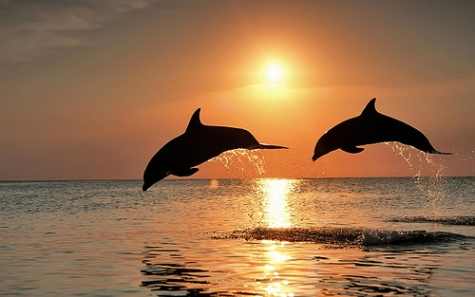 Dolphins breaching the surface, Honduras
I cannot resist these beautiful dolphins perfectly photographed with the sun setting in the background.


Back to Caribbean Scuba Diving Vacations Home Page