Loading
Grafton Beach Tobago
Grafton Beach Tobago
resort is located at Black Rock Tobago, just a 20 minutes drive from the
Crown Point Airport
and the Scarborough seaport.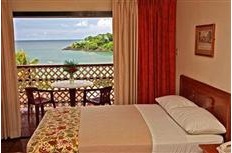 If you are interested in scuba diving on the south western end of the island Grafton Beach Resort is in an ideal location.
They offer all inclusive packages, for breakfast, lunch and dinner. During your surface intervals enjoy tennis, swimming pool and gym facilities. They also have an all inclusive package that you should ask about in advance. You can enjoy rooms that are designed with tropical ideas in mind.
Read reviews of Grafton Beach Resort Hotel Tobago
Back To Tobago Vacation from Grafton Beach Tobago
Back to Caribbean Scuba Diving Home Page