**Enter our Monthly Photo Contest**

Want to share your best Caribbean scuba diving vacations and photos?
Are you a scuba diver? Do you love the underwater world? Have you done Caribbean dive travel before?

This page is all about Caribbean Scuba Diving Vacations Stories & Photos.
Share YOUR photos tell your story & RE-LIVE all those exciting scuba diving memories. Just imagine sitting with your best diving friends with a good island beer... telling your story.
Well, the difference here is that
your photo & story will be placed on a separate webpage on our website
---
Note: These Caribbean Scuba Diving vacations photos & stories may be rated by visitors to our site. So... visit again to watch readers' ratings for your story.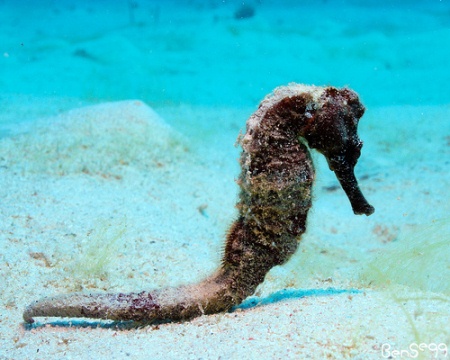 Red Seahorse off Utila, part of the Bay of Islands Chain off the coast of Honduras. Photo by by Scubaben
---
It is always loads of fun going on a dive trip in the Caribbean. But when the adventure is over your stories and photos get stashed away.
The hard part is that you spent all that money on traveling and diving, and sometimes your family and friends are not able to connect with all that dive jargon that you uncontrollably start spilling...
Now you have the opportunity to share your stories with like minded dive enthusiasts throughout the world.
By submitting your best Caribbean dive travel photos, stories and tips, you'll be automatically entered into our monthly contest. But more importantly, the time and energy you invested in your dive trip will be shared with other dive lovers. You may even get ideas for your next Caribbean trip.
Monthly Dive Story CONTEST TERMS AND CONDITIONS
Your entry has to be all of the following:
Submit up to 3 photos - but make sure you choose the coolest ones.
Your scuba diving story must be 400 words or more to be considered for judging.
Tell us about a scuba diving location anywhere in the Caribbean or Latin America...

What marine life did you see on your dive?
Any enriching or memorable experiences during your actual scuba diving in the Caribbean country.

Tell us about your accommodation during your dive trip.

Do you have anything great about the dive operator you scuba dived with?

Other wonderful activities that complimented your visit and you highly recommend.

Your writeup must be original and cannot be copied from another source

**OPTIONAL**

Submit a video of your dive trip. You can also upload a video of your dive excursion to YouTube or any other video-sharing site and send us the link. Make sure the clip can be embedded so we can feature it on the site alongside your photos.
How is a winner chosen?
Once the contest ends, Caribbean Dive Vacations will evaluate the entries and choose a winner based on the criteria below:-


---
Important: REMEMBER to add your email address on the next page (after pressing the "Submit" button below) so that:
We can send you a confirmation email when your dive story has been approved.
You can receive updates when visitors ask questions or comment on your dive travel.
We can notify you if your dive story is among our contest winners (If you don't provide your email address your submission will still be added to the site, but won't be included in the contest because we won't have any way of contacting you...)
Do YOU have a great story to tell about your Caribbean Scuba Diving Vacation?
Then you have a chance to share your scuba diving adventure and be automatically entered into out contest!

It will be enjoyed by many people from all over the globe... for years to come.

Thank you in advance for sharing it with all of us!
Top of Caribbean Scuba Diving Vacations Stories
Back to Caribbean Scuba Diving Home Page