Underwater diving jobs can take you to amazing places and allow you to have extraordinary experiences. You can find scuba instructor jobs throughout the Caribbean region with scuba dive jobs on resorts, at scuba retails shops, dive centers and more.
Recreational diver jobs
To qualify for this job, you must be a certified dive master or dive instructor. Your job description may entail : -
Certifiying others in becoming SCUBA divers


Rescuing divers in difficulties


Leading individuals and groups on snorkel trips


Managing dive trips


Educating divers on marine life


Maintaining scuba gear and equipment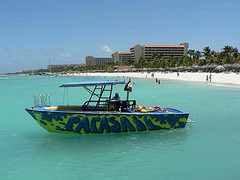 There are countless options as a recreational diver, you could work on a live-aboard in Bahamas, a dive shop in Aruba, a dive resort in St. Maarten or a cruise ship line around the Caribbean region.
Income is dependent on the cost of living which varies from country to country. Your salary can range from $8000 U.S. to $40,000 U.S. per year.


---
Aquarium Cleaner
Have you ever seen large aquariums in hotels and water parks? Ever wondered how they got cleaned? Someone has to get down there! It just may be you.
A pretty famous aquarium in the Caribbean is found in Atlantis Marine Habitat and Exhibit Lagoons, Paradise Island, Bahamas.. As a scuba diver this is just one of the jobs you can get.



Back to Caribbean Scuba Diving Vacations Home Page